Volt Janeri (ボルト Janeri member: 6/11/11 - 7/28/11) is a young, overly seirious swift who owns way too many fighters and vehicles.
He is also an ace pilot and leader of a special force known as black lightning. As well as the persona and fursona of the great, and infamous spore creator and RPer, Captainredfox.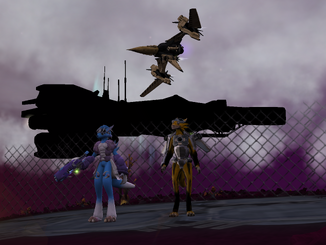 Age:
13

Gender:
male

size: 
5,7

species: 
swift

homeworld:
Barcon

affiliation:
Tayyain army, Black lightning

ship(s):
Blue Veyron, Black Firefly

allies:
Gordymad, Renamonguy

Roleplay allies:
Tayyain army

Intensions
Edit
He intends to do two things; stop all Tayya's wars either through battle or diplomacy, and stop the unnessesary persecution of furries, again either through war or diplomacy. He wants to also stop narian and his evil plans.
Personality
Edit
Volt has a strict personality and a strong sence of justice, he also gets angry in a creepy, quiet way.
He wants everyone to follow the law of the galaxy, he himself has to break the law to do this occasionally.
This might be in part by the fact his mother and father were killed by burglars when he was six years old.
He is a swift, narian is a citra
He was freinds with Narian through childhood
His fighter is the Blue Veyron
He was once a police officer for less than a month
He set the record for fastest speed acheived in space by a swift, 45,557 mph.
His right hand is internally cybornetic
his real name is Abcid Watson Janeri (Volt comes from WATson as if watt, which is a measurement of electricity. thus Volt)
He is the youngest RPer on this wiki.
Community content is available under
CC-BY-SA
unless otherwise noted.